Terms and Conditions
1. The promotion is open to residents of Great Britain, the Isle of Man and Channel Islands only aged 12 years or over, Employees of ALO, their families, agencies, or anyone else professionally connected with this promotion are not eligible to enter. while stocks last. Under 18's need parental consent.
2. The promotion starts on 01/02/2017 and closes at midnight on 31/12/18
3. In order to participate in the try ALO promotion you must purchase only promotional 500ml ALO "EXPOSED", "ALLURE" or AWAKEN", from Waitrose. 1 bottle per a householder.
4. To receive cash back you will need to visit www.alodrink.co.uk/tryalowithwaitrose, upload a scan or photo of original valid full receipt, provide your name and postal address and answer a short questionnaire. To be valid the receipt must clearly show that the product was purchased between 01.02.2017 and 31.12.18 (receipt date).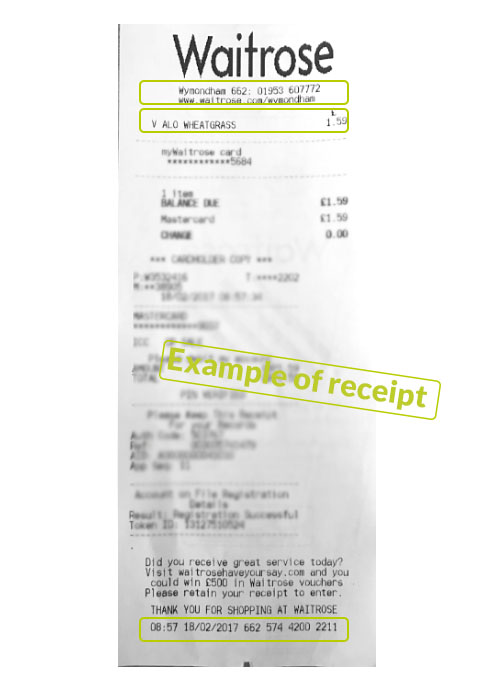 5. All entries must be received no later than 15/01/19
6. The cost of the product up to £2.00 will be refunded via a letter cheque.
7. All letter cheque will be dispatched within 28 days from receipt of the entry.
8. Cheque cash back to entrants under 18 without a bank account will be made out to their parents who have provided parental consent. In such cases the parents should provide their name and address along with the Waitrose receipt scan.
9. No bulk or third party applications will be accepted.
10. No responsibility can be accepted for claims or cash backs that are lost, delayed or damaged in the post.
11. For any questions relating to the product or try ALO promotion please contact the consumer helpline on 0208 665 0600 or email info@alodrink.co.uk
12. If there is any reason to believe that there has been a breach of these terms and conditions, or in the spirit of the promotion, the Promoter may at its sole discretion refuse to accept an entry.
13. The promoter's decision is final in all matters pertaining to the promotion and no correspondence will be entered into.
14. Any question regarding the legal interpretation of these terms and conditions will be based on English law and the Courts of England and Wales will have exclusive jurisdiction.